Unscripted Series:
"HeadTrip"
"HeadTrip" is an unscripted, transformation television series that grants an up-close and extraordinarily personal view into the design, psychology and economics involved in styling highly-textured hair.
Collab Opportunity
Pairs perfectly with a production company looking to develop cost-effective unscripted content that appeals to ethnically diverse audiences. My interest is in selling the concept and maintaining a "created by" or other producer credit. The detailed show bible and longer promo are available upon request.
Microdocumentary:
"Hair Styling in South Africa"
This 33-minute micro doc was created in 2017 with no budget, a Go Pro, and deep desire to connect with hairstylists in South Africa. I documented my trip for my own record. Watching the footage, I decided the content was worth editing and sharing.
Collab Opportunity
The opportunity with this piece is simply sharing. Leaders who are intrigued with the impact race, politics and circumstances have on human potential, as well a those who showcase empowering stories about how oppressed people leverage creativity to create better lives for themselves and their families may find this muse useful in workshops or courses.
This full color novelty book is the brainchild of two presence experts: your's truly and etiquette and protocol consultant P.J. McGuire. The tips you'll find inside are simple enough to implement today and impactful enough to change your life forever.
(ISBN: 1450731147)
Collab Opportunity
Individual and corporate gift-giving: Picture your logo on the first page of this 6″ x 6″ novelty book full of the do's and don't of leadership presence. The book can be your custom-printed, branded promotional gift! Perfect for executive coaches, leadership organizations, veteran transition programs and young adult empowerment initiatives.
INQUIRE for bulk pricing and customization details.
I write about where hair intersects life, particularly, policy, politics and pop culture. Nuance is my specialty!
READ ARTICLES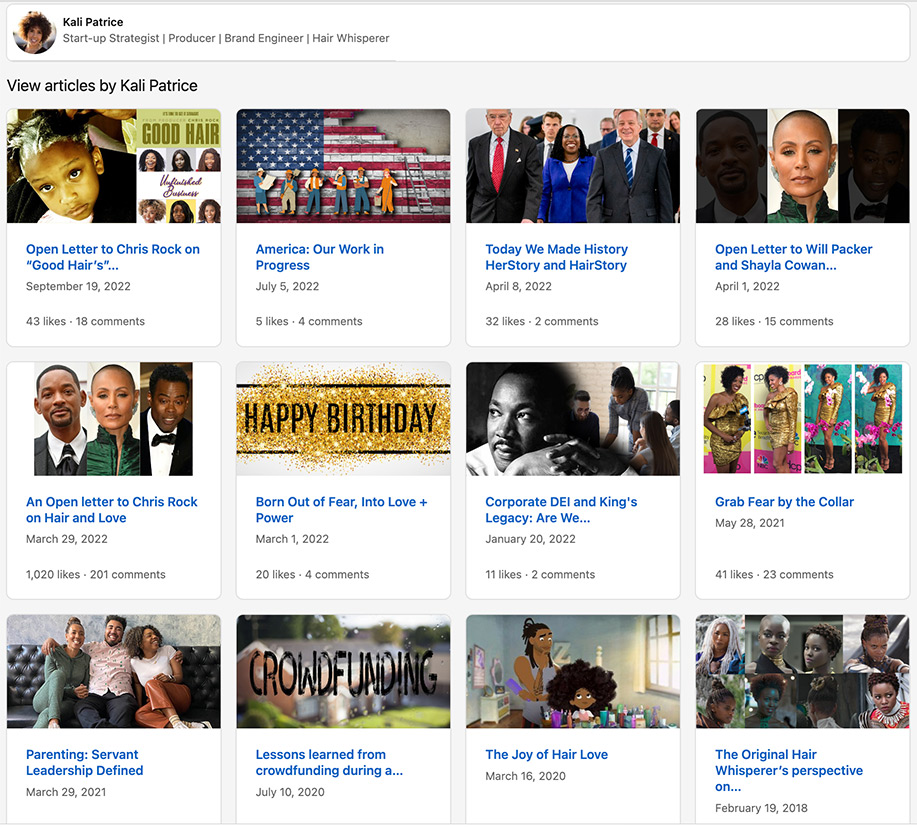 Collab Opportunity
Would you like to be interviewed? I'm always on the look out for fresh perspectives and wisdom of experts in a variety of fields. EMAIL me directly to discuss interview opportunities.
See more exclusive content.
You will receive an email with a private link to view more show concepts, manuscripts and collaboration opportunities.